Christopher (Chris) Chu has amassed stellar credentials as a longtime technologist and business executive, recently adding a 2019 Global Corporate Venturing Rising Star Award to his accomplishments. Chris placed eighth out of the top 25 winners, in recognition of his outstanding efforts working with leading entrepreneurs and startups, and especially his contributions in digital health and automotives.
On the surface, Chris' accomplishments seem similar to those of the many high achievers who populate Silicon Valley – a geographic area (and a mindset) that is sometimes criticized as a "bubble," in which residents live their lives apart from the real world.
But Chris makes a point of leaving the confines of the Valley periodically to explore the world's "remote corners" and to climb the mountains of Asia, Africa, and South America. Getting far away from Silicon Valley for adventure helps make him a better investor, he says.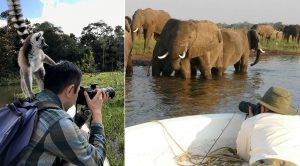 Traveling brings balance to his personal life, and fulfills childhood fantasies of being like Indiana Jones or becoming an explorer in outer space. It also reminds him that there are places well outside of the San Francisco Bay Area where creative and innovative entrepreneurs work on projects worthy of venture capital.
"Technology investment should be truly borderless," Chris says. Yet among the biggest challenges he faces as Managing Director of the Samsung Catalyst Fund's U.S. office have been those very borders.
"How do we cover all the innovations in the emerging technology hubs outside the Valley?" he says. "It takes a good team with the time and resources to proactively seek out the most creative ideas, innovations, and technologies that Samsung believes will have a huge impact in the lives of people all over the world."
Chris says he believes that corporate venture capital (CVC) organizations like Samsung Catalyst Fund are in a better position to "change the world for the better" than are traditional venture firms, because CVCs are less concerned about short-term gains.
"This, I think, is the huge benefit of CVCs," Chris says. "For example, my investment team is backed by a strong and stable corporate platform from which we can help nurture ideas and strategic growth – all the while having a longer-term view of the inevitable ups and downs of startups."
Since he joined Samsung Catalyst Fund in 2013, Chris says he has come to believe that if the segment is to be even more influential in the future, then the virtual borders that divide one CVC from another must also be eliminated.
"CVCs can build stronger bonds amongst each other," he says. "We all should be confident in pushing the boundaries of collaboration, partnership, and syndication, and looking for opportunities for more co-investment."
Chris admits that some entrepreneurs are wary of CVCs, because they are afraid that the corporations behind the funds may not be as well-meaning as they claim to be. That's a myth he wants to dispel, to push through the boundaries of misunderstanding.
"The Samsung Catalyst Fund team is here to foster win-win scenarios between startups and Samsung," he tells the startups. "The team will help bring out and develop your uniqueness and germinate that core technology and business differentiation into an even greater partnership. We really look forward to teaming up and growing with you."